Let Us Help to Save SriLekha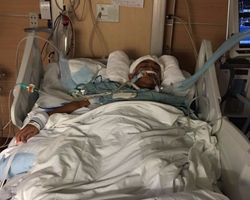 Kolluru Srilekha is an extraordinary student from a middle-class family. She suffered a serious head injury in yesterday's accident at the university area in Johnson City, NY, and now fighting to survive in spite of the efforts of what the latest medicine has to offer. An owner of just 2 acres of land, Suresh has an insurmountable task of dealing with the expenses in a foreign country. Let us all help in getting Srilekha back on her feet by contributing financially any which way we can.
Srilekha Kolluru recently came to the United States to pursue Masters in Computer Science at Binghampton University, NY. She met with a car accident on Monday evening around 7:45 PM. When She was crossing the road after getting out of the bus then a speeding car hit her. She suffered a major head injury and has been on a Ventilator for the past 36 hours. She went through brain surgery and is currently at Wilson Memorial Hospital, Johnson City, NY.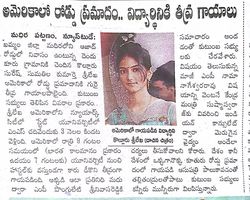 About Her Family
Srilekha is from a poor family of Dendukuru(V), Madhira (M), Khammam (D). She is the only daughter of her parents. As she is a meritorious student, parents have sent her to America with a lot of hopes, by taking a bank loan. After this unfortunate incident to their daughter, they applied for their passports and are hoping to come to the US at the earliest, and take care of their daughter. They are incapable of bearing any of the huge expenses incurred in America, for their daughter's treatment.
Letus all help this young woman fight and recover her injuries, by contributing financially. Let us help make her dreams come true. Let us be with her and let her not give up!
Get Well Soon…!!!
Please Pray For Her..!
To Donate Please Follow the Below Link
https://www.gofundme.com/srilekha